Today 1st of Dec 2023
Rainy weather: The Alpine region will lie under a marked air mass boundary between cold, polar air in the north and mild Mediterranean air in the south. In addition, an Italian low will move in during the course of the day.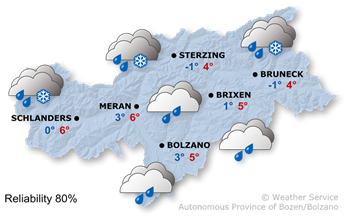 The weather
Clouds will predominate and precipitation will spread during the day, becoming heavier in the evening and during the night. The snow line will lie between 1500 m in the north and over 2000 m in the south, dropping to 500-1000 m in the evening and at night with the arrival of colder air and the higher intensity of precipitation. Top temperatures between 2° and 6°.

Mountain weather
Cloudy and precipitation starting during the day. Initially, the snow line will be between 1500 and 2000 m, highest in the Dolomites. During the night, the snow line will drop significantly again.
Altitude wind
Strong southwesterly (20-37 mph)
Sun
Sunrise: 7:37
Sunset: 16:31
Moon
Sunrise: 19:59
Sunset: 11:37
Tomorrow 2nd of Dec 2023
Decreasing precipitation: The frontal zone will slowly move southeastwards, the currents will turn to the north and bring cold air into the Alpine region.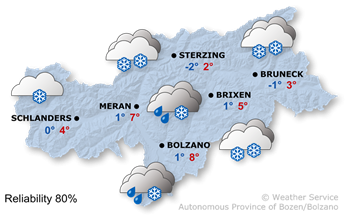 The weather
Saturday will begin cloudy with widespread precipitation. Snow line between 500-1000 m. As the day progresses, north foehn will dry out the air in the valleys, while snowfall will continue at higher altitudes into the afternoon. Maximum temperatures from 2° to 8°.

Mountain weather
Very cloudy and snowfall will obstruct the visibility on the mountains. The precipitation subsides in the afternoon.
Altitude wind
Strong northerly (20-37 mph)
Sun
Sunrise: 7:39
Sunset: 16:31
Moon
Sunrise: 21:07
Sunset: 12:08
The next days
Very sunny Sunday: On Sunday, the sun will shine from a cloudless sky throughout the country. The north wind will weaken. The clouds will increase again on Monday and it will remain cold. Tuesday will be variable cloudy with some sunny spells. Some light snow showers especially on the mountains. Wednesday mostly cloudy weather and a few sunny spells.

sunday
03
Sunny
Max: -4 - 5°C
Min: -14 - -4°C

monday
04
Very cloudy
Max: -3 - 4°C
Min: -12 - -4°C

tuesday
05
Very cloudy
Max: 0 - 5°C
Min: -7 - -2°C

wednesday
06
Very cloudy
Max: 1 - 6°C
Min: -7 - -2°C