Today 29th of Nov 2023
Sunny weather, cold: High pressure conditions.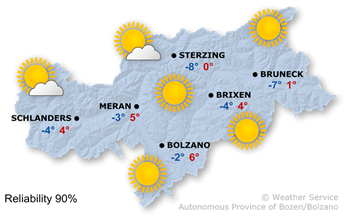 The weather
Sunny weather with few clouds. High temperatures between 0° and 6°.

Mountain weather
Sunny weather with perfect visibilty. In the afternoon some clouds from west. Falling temperatures.
Altitude wind
Moderate westerly (20-37 mph)
Sun
Sunrise: 7:35
Sunset: 16:32
Moon
Sunrise: 17:50
Sunset: 10:04
The next days
Thursday and Friday precipitations: Increased cloudiness on Thursday with precipitation. Snowfall limit at first in the valleys, during the day rising on 500 and 1000 m. Friday unstable conditions and showers are still possible in places. Snow line between 500 and 1000 m. Saturday weather improvement with North Föhn. At first some low clouds, then sunny weather. Sunday sunny weather. Low temperatures.

thursday
30
Dull, sleet
Max: 1 - 5°C
Min: -8 - 0°C

friday
01
Dull, sleet
Max: 3 - 6°C
Min: -2 - 2°C

saturday
02
Partly cloudy
Max: 0 - 7°C
Min: -6 - 0°C

sunday
03
Sunny
Max: -4 - 5°C
Min: -14 - -5°C